Something I appreciate working at HiRoad is that unlike some companies, corporate social responsibility and community impact aren't an afterthought or just some page on the website — they're built into how we do business.
By incentifying smart driving choices and rewarding them on a monthly basis, we hope to measurably reduce accidents in the places we do business, which helps commutes and communities.
But to enrich the core business model of behavior-based insurance, we're exploring additional ways to enable HiRoaders to contribute to the greater good, or "take the high road." In Rhode Island, we didn't need to look much further than Social Enterprise Greenhouse (SEG) for some great ideas.
We had a great ideation session with a group of customers, entrepreneurs and community leaders from SEG. The goal was to react to and co-create concepts around mindfulness, sustainability, and community impact. We started with scenarios for our current app (that looks at and rewards your good driving) and got feedback to how these concepts could come out more strongly.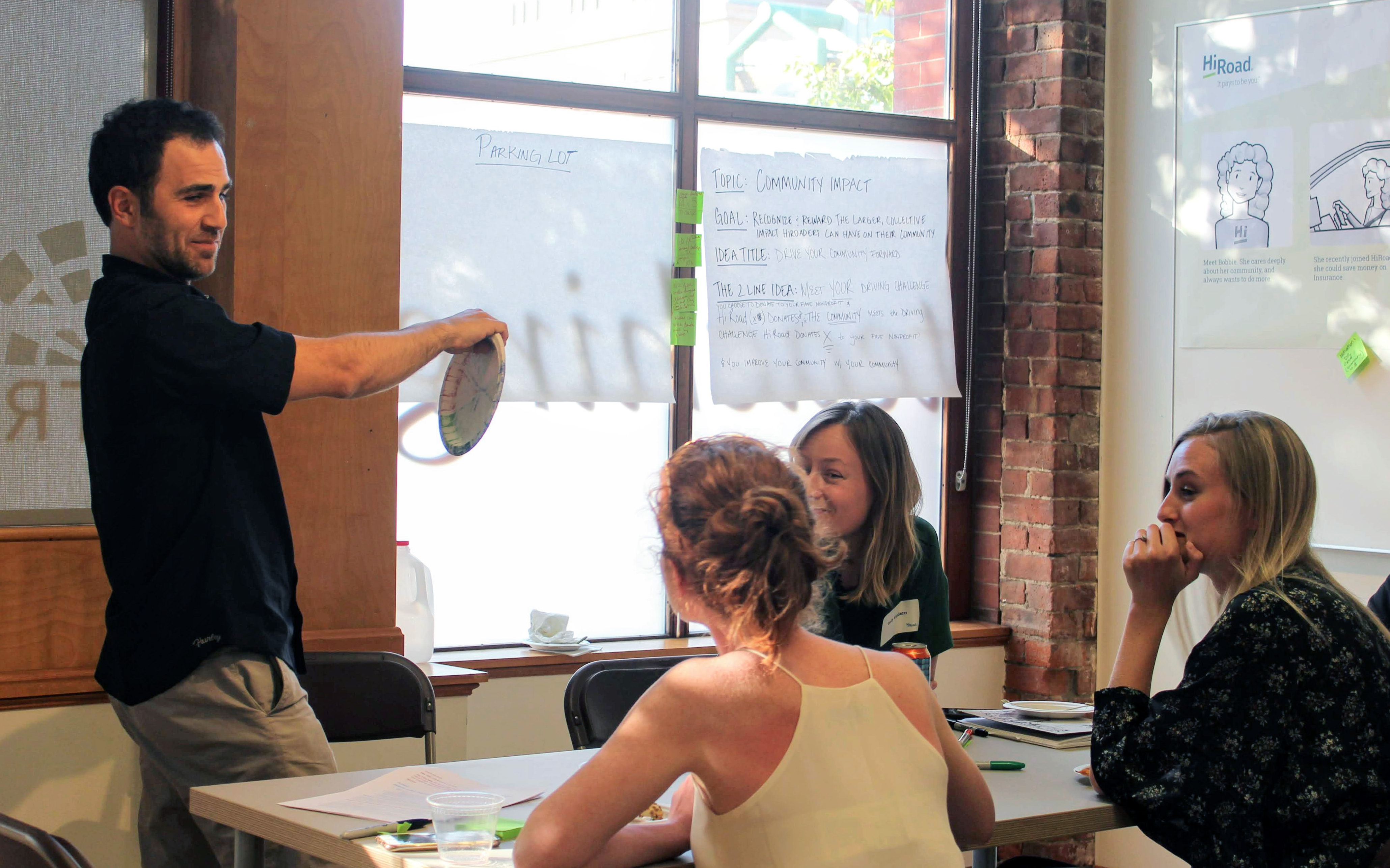 Some key themes around mindfulness and community impact.
"Recognize when I make an effort and progress." When it comes to things like sustainability and mindful choices, attempts at improvements (like biking or riding the bus) and recognition of progress overall are both important to help motivate improvement. We are working on improving our system of tips and challenges in this regard.
"Give me data-driven proof of impact." When it comes to seeing change in the world, people want to see how their good choices are tangibly making their communities better. For example, how have their transit and driving choices impacted their carbon footprint or stress level? What about traffic in their city?
"I want tips connected to my actions that help with mindful behavior." People want contextual, relevant, timely feedback: for example, when they get in the car and get a reminder from their HiRoad app to take deep breaths before they turn on their car. With distracted driving a growing concern, focus and stress reduction were both big themes.
As we look forward, these insights and some incredible prototypes the group created are guiding further concept and feature development. We're grateful to each of you who shared your ideas that evening, and look forward to more chances to envision what "taking the HiRoad" looks like together. What types of social impact tips should HiRoad consider? Send them our way!
About Social Enterprise Greenhouse: "We create positive social and economic impacts by supporting social entrepreneurs and enterprises with the tools and networks they need to thrive. We are a network of business and community leaders who contribute time, expertise and money to create jobs and support positive change through social enterprise."