It's finally time for my first-time car insurance purchase.
Adulting starts right after high school graduation and hits hard when you sign your first lease or pick your first health care plan. 
Like these, a lot of people consider coming off their parent's car insurance as another landmark. We've also heard it can be an intimidating decision. So, here are some things to keep in mind when you're considering your first-time car insurance purchase.
We all remember the moment from getting our first apartment. That check for first and last month's rent, plus security deposit! More money than you've ever put together for anything before — and wondering if you're going to get it back. And you think, "oh, this is adulthood…"
Recognize when it's time. Insurance is one of those things your parents might keep you on while you get some of your baseline adulting figured out. Moving, a new job, buying your own car, or even turning 26 (and needing your own health care) are all reasons you might venture out on your own.
Don't let the myths get you. If your car is titled/registered just to you, you really should have your own policy. This ensures that you have control of the coverage you select and receive important notices related to your policy. This can be especially important when you have a claim.  And, getting your own insurance is easier than it may seem. With HiRoad, you can quote and buy within minutes and be on your way.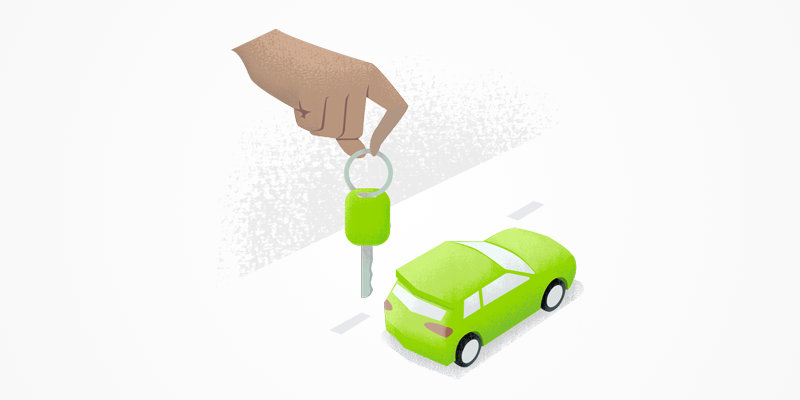 How do I choose the insurance for me?
First, know what your car is worth. When you're choosing your first-time car insurance, you'll want to think of the value of your car if damage were to happen to it. A great way to figure out the value of your car is to visit Kelley Blue Book. This will help you decide if you need comprehensive coverage (for things like break-ins) and collision (if you hit another car or a tree). These coverages are commonly required by your lender for a loaned or leased car. The question here is can you afford to repair or replace your car if it's damaged in an accident?
Don't forget about the other car. Liability is what you're on the hook for if you hit someone else. Most states have requirements for what you need to have for damage you cause to others (AKA: liability). You'll see three numbers: $ per person/ $ per accident for bodily injury (injuries to others)/$ property damage you cause. Let's look at Rhode Island for example – there the requirements are $25,000 per person, $50,000 per accident for bodily injury, and $25,000 for property damage. With the cost of cars on the rise, it's a good idea to carry higher limits of liability to make sure you have enough coverage if you hit an expensive car (or multiple cars). When thinking about your first-time car insurance purchase, think about if you hurt someone in an accident, not only does liability cover damages to the other person, but it also covers the cost for lawyers selected by the insurer to defend you if necessary.
Pick coverage that makes sense for you. As you shop around for different prices, know not all coverage is created equal. Make sure when you're getting quotes, you pay attention to the coverages offered and always quote apples to apples. The higher the deductible (the out of pocket amount you'd pay on a claim), the lower your monthly bill! Also, something you may not know, rental car coverage is inexpensive and allows your insurance company to pay for a replacement car while your car is being repaired after an accident. This is a big one for your first-time car insurance purchase!
Go with a company that feels right. Cost and coverage are obviously the big ones when you're choosing insurance, but keep in mind the company you're working with as well. How is the customer service? Claims? Do they have technology and self-service tools that work for you? We get it, first-time car insurance purchases are tricky, so we're here to answers any questions you might have.